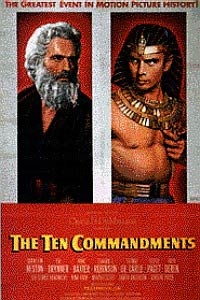 A rich Egyptian prince Moses, learns that he is a Hebrew. He then turns his back on his royal heritage to lead his people out of bondage.
DetailsAction/Adventure
3 hr. 40 min.
Opened October, 5th 1956
CastCharlton Heston, Yul Brynner, Anne Baxter, Edward G. Robinson
DirectorCecil B. DeMille WriterJ.H. Ingraham, A.E. Southon, Dorothy Clarke Wilson, Æneas MacKenzie, Jesse L. Lasky Jr.